/

The automatic barrier
The automatic barrier

The automatic barrier secures access to the aire and helps fight against fraud. Associated with an entrance terminal and an output terminal equipped with RFID reader, it allows the regulation and control of the entries and exits of motorhomes. To trigger the opening of the barrier, motorhome operators scan their PASS'ÉTAPES card. If the user credit is insufficient at the exit, the barrier does not rise. The customer is then invited to reload his account by bank card on the payment machine, via the Internet, the application, or by telephone.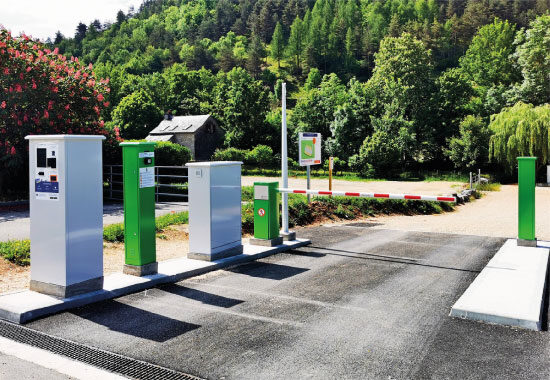 THE TECHNICAL CHARACTERISTICS OF THE AUTOMATIC BARRIER: >
Motorway (1,500 movements per day with normal maintenance)
Average time of operation without failure: 15,000 hours. IP44. Complies with CE standards.
Marine resistance 316L stainless steel
Parameterizable electronic control logic.
Safety / closing presence detector by ground loop.
Sensors allowing to know the extreme positions of the arm (closed position and open position).
Limit switches for stopping in the two limit positions of the barrier arm.
Remote control and management (opening, unlocking, closing)
Automatic release of the boom in the event of a power cut (according to European standard)
Manual locking and unlocking possible (using a key)
Oval / round straight beam in white lacquered aluminum with red reflective bands.
Smooth length: 3ml (possible 4ml)
Minimum operation time: 0.8 to 3 seconds depending on the length of the arm and the options chosen.
Single-phase 230VAC, 50/60 Hz power supply. Nominal consumption: 250 W (at maximum speed and without options)
Ambient temperature of use: -20 ° to + 50 ° C
Single phase 230 VAC, 50/60 Hz
Asynchronous single-phase motor 250 W.
Dimensions :400x403x1052mm
IP 44
Weight: 83kg excluding boom
Optional Lyre
Door locked by key
Noise level emitted in operation: <70db (A) (measured at 1 m from the surface of the machine)
RAL 6018 (other RAL optional)