/

WiFi Terminal and video surveillance on motorhome areas
WiFi Terminal and video surveillance on motorhome areas

The presence of a Wifi hotspot system

which allows good quality internet access is very popular with motorhome operators because they are often equipped with a smartphone and / or a tablet. Once installed on a network aire, tourists have free access to wifi and have easier access to tourist information: places of interest, restaurants and shops located nearby. It is a real added value for tourism and the local economy.
The video surveillance system on the CAMPING-CAR PARK sites

is useful for preventing intrusions, theft and damage 24 hours a day. 

This equipment allows to react efficiently if necessary to protect users, ensure their safety and enable them to stay safely.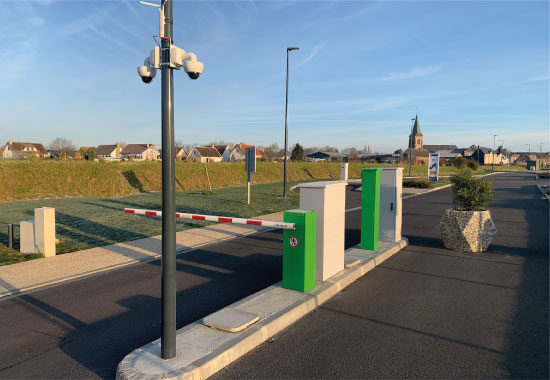 THE TECHNICAL CHARACTERISTICS OF THE WIFI TERMINAL AND VIDEO SURVEILLANCE ON MOTORHOME AREAS : >
THE WIFI TERMINAL
Technical characteristics
WIFI terminal and transmitter protected against vandalism
Operating temperatures: iBox router: -20 to + 50 ° C; wifi transmitter: -20 to + 70 ° C.
To be mounted on a pole or support of sufficient height for good distribution (3m). Optional mast
Supervision
Instant alert during an incident
Security
Access restricted to people on the aire
Blocks malicious sites
Blocks important downloads
Traceability of connections
Communication
Customizing the login home page
Customizable survey for the motorhome operators
THE VIDEO SURVEILLANCE :
Infrared security cameras :

3 axis, 50m infrared range.

Resolution : 4 Megapixel, 2688×1520 pixels

H.265&H.264 triple encoding stream

Intelligent detection

WDR(120dB), Day/Night (ICR), 3DNR, AWB, AGC, BLC

2.7mm ~12mm motorized lens, 4x optical zoom,

Micro SD memory slot, IP67, PoE

Recorder :

Multi-platform live display 

Mobile monitoring

Recording and playback

Intelligent research / Motion detection

Remote control by CAMPING-CAR PARK

Playback, replay, recording and retrieval of videos for up to 30 days