/

The digital availability panel
The digital availability panel

The digital availability panel 
NEW CAMPING-CAR PARK PRODUCT
Connected to our network management software, this panel indicates in real time the number of pitches available in the motorhome stopover. 
Placed at the entrance to the town and/or at the entrance to the campsite, this sign provides motorhome users with immediate information on the number of pitches remaining. This is an effective way for the local authority to manage tourist flows or to improve traffic in its municipality in case of difficult access. 
NB: the number of remaining pitches is also available on the CAMPING-CAR PARK application in real time!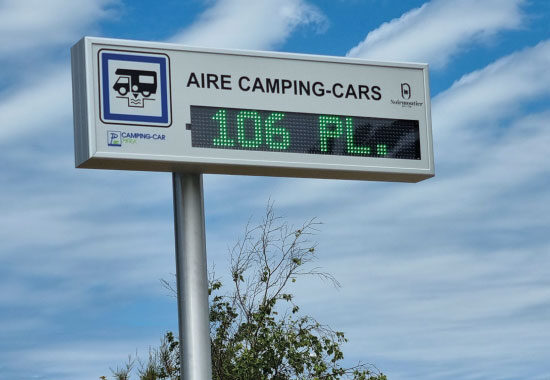 THE TECHNICAL FEATURES OF THE DIGITAL AVAILABILITY PANEL: >
Mechanical features
Standard single sided natural anodised aluminium housing (dimensions 1100x350mmx122mm)

Premium cast vinyl film decoration on a 5mm thick PMMA face. Class 1 white reflective background 

2mm anodised aluminum rear panel

IK07 mechanical protection

Thermostatic forced ventilation with IP54 grilles

Mounted on a 90/150 brushed aluminium 6060 mast, overall height 2900mm. Junction box with cover door 
 Display's features 
95mm dynamic trichrome LED display with very high brightness (3000mcd), 55° angle at half power

Displayable colours: red / green / yellow
Display capacity: 8 characters in wide font, 11 characters in narrow font

Display functions: number of free pitches, fixed text, flashing, scrolling 

Reading distance approx. 50m 

Automatic brightness adjustment by photocell integrated in the housing

Customisable message

(e.g.: « FULL», « WORK IN PROGRESS », …)
 Electrical features
3G/4G modem control over private APN (security)

IP-based TRAFIC protocol control (communication protocol for dynamic digital signage displays) 

Protection by built-in 5KA lightning arrester

220-240V 50Hz 50W power supply

Option : additional displays / lines (consult us)