/

How does a motorhome stopover work ?

HOW DOES A MOTORHOME STOPOVER WORK?
What is a motorhome stopover?
The parking of motorhomes is governed by the road safety rules concerning on-street parking, the Town Planning Code for private parking and the General Local Authorities Code.
Thanks to the economic benefits of this form of tourism, many local authorities choose to set up stopover areas or service areas to accommodate motorhome users.
A distinction should be made between these two types of areas:
They allow motorhome users to carry out the technical operations necessary for their autonomy and cleanliness via service terminals: filling drinking water tanks, emptying waste water (grey water) and emptying black water (chemical toilets). The service areas must be designed with a specific surface area to allow users to manoeuvre easily. This type of area is designed for occasional stops and short-term parking.
These are more commonly known as motorhome stopovers. They are often larger than service areas and allow users to park for longer periods. It should be noted that these sites can be located in car parks but also in municipal and private campsites.
How does a motorhome stopover work?
A motorhome stopover is a space reserved exclusively for motorhomes and self-contained vehicles, corresponding to the tourist use of accommodation in one's vehicle. There are both free and paid areas.
The private areas will have to be paid for, but the space they offer has the essential services to guarantee safety and rest for users after a day of driving. This area is equipped with service terminals and stabilised pitches that allow vehicles to park 365 days a year without getting stuck.
There are various websites and applications that list the motorhome stopovers available in the world, where each park is described with the technical information that the motohome user needs (price, available facilities, number of pitches, etc.). Park4Night is the most famous free application on which the users share their spots and reviews. There are also CaraMaps, Campercontact, and the CAMPING-CAR PARK application, to name but a few.
What are the special features of the CAMPING-CAR PARK network's stopover and service areas?
CAMPING-CAR PARK is Europe's leading network of stopover and service areas for autonomous vehicles, accessible 24 hours a day, 365 days a year. It is the expert in making your territory accessible to the 2,100,000 European motorhome users.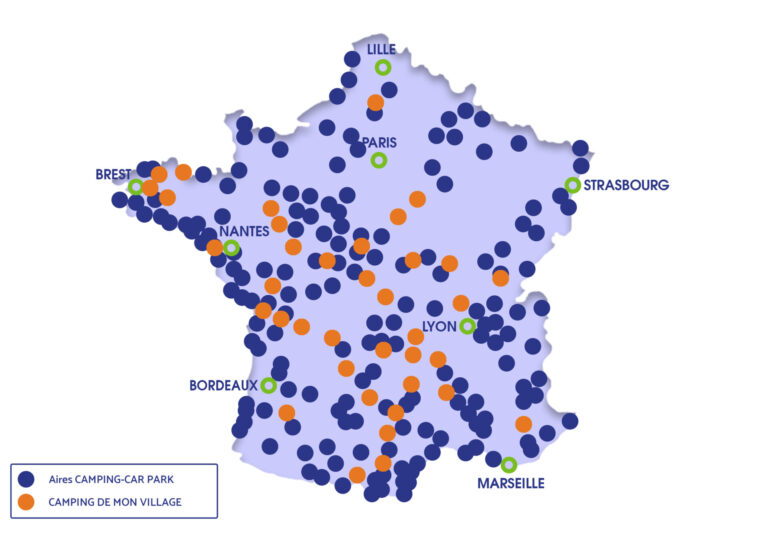 Since 2011, CAMPING-CAR PARK has been providing its expertise to more than 300 local authorities by ensuring the overall management and supervision of the network's sites. Each of our destinations offers tourists quality services: water, electricity, Wi-Fi, emptying, waste collection, etc. The management and supervision of the sites are carried out by our teams to free you from on-call duties. We promote and communicate your site and its territory in order to increase the number of visitors.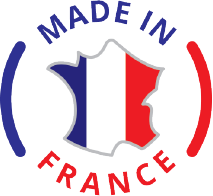 The equipment offered by CAMPING-CAR PARK is manufactured in our workshop in Pornic (44). The materials and supplies are of European origin, they comply with the standards in force (European and French) and are approved. We control the production chain from manufacture to installation. Our equipment is stainless steel, rustproof, resistant to any aggressive environment and manufactured in France. We also ensure that an anti-fraud system is in place.
The equipment is then monitored daily by our team in Pornic, Loire-Atlantique.
The equipment offered on the network's areas
All our solutions can be customised according to your needs, allowing you to structure and increase the attractiveness of your area.
Here are the facilities available at a motorhome stopover in the CAMPING-CAR PARK network: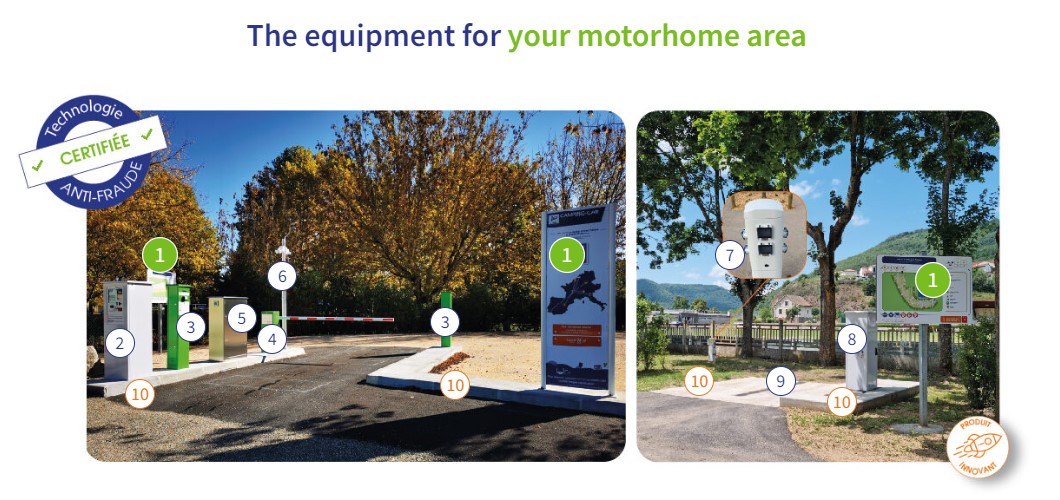 Each stopover area has an entry and exit terminal (3), with an LCD screen, an RFID keyboard (badge reading) and has an access barrier (4). The payment machines (2) have a multilingual touch screen, an access card dispenser (PASS'ÉTAPES), explanatory photos and a payment terminal.  
We manufacture service terminals (8) (connected or not) which allow the motorhome users to empty their waste water (emptying zone, aco drain) and to get water, all year round, even in freezing weather, thanks to heating cords.
We also manufacture electrical terminals (7) (connected or not) which can be reset and supply the pitches, connected to a General Low Voltage switchboard and to the electrical cabinet (5) generally located at the entrance to the area. 
To complete the quality of the services offered, we also propose different communication packages for the signage (1), with informative guide panels or a digital "availability" panel equipped with a screen that displays the number of remaining pitches available at the entrance to the area.
You can complete the services offered with video surveillance (with infrared cameras and recorders) and a secure Wi-Fi hotspot (6) protected from vandalism and bad weather.
Finally, the last new feature for 2021 is a Prefabricated concrete equipment kit (10) patented by CAMPING-CAR PARK to facilitate and speed up the construction of your area!
A turnkey product, for a management without constraints and guaranteed financial resources.
Find out more about the equipment of a motorhome stopover: 
https://pro.campingcarpark.com/en/the-equipments/
YOU WANT TO CREATE A MOTORHOME STOPOVER?
 CONTACT OUR TEAM: 
+332.52.80.20.03