/

VAN Night

VAN Night: the new mobile application for vans
To meet the growing demand from van tourists looking for parking, CAMPING-CAR PARK is launching a new application: VAN Night. Completely free, VAN Night references stopover areas and campsites equipped for van tourists.
Alone, as a couple or with the family… vanlife is attracting many itinerant tourists. 
Therefore, the number of vans is constantly increasing:
Share of vans in annual registrations:

Like motorhome users, tourists travelling in a van have specific expectations that guide their choice of ''spot'' to stay overnight. 
Their are primarily looking for
An authorised and safe spot

Large pitches

Access to electricity

A water point

Sanitary facilities (WC)

A waste collection point

Proximity to points of interest

Access to WiFi
And ideally:
A green setting

Showers

A launderette

Picnic tables

A barbecue
To find the perfect ''spot'' for their stay, European van tourists mostly use referencing applications such as Park4Night, Caramaps or… VAN Night, the new mobile application dedicated to them! 

Completely free, VAN Night is an application that already references more than 90 stopover areas and campsites equipped for van tourists.
The advantages of this application:
Search filters to select different criteria

Number of pitches available in real time 

Possibility to book in advance or for the same day.
Vehicles allowed on the sites referenced on VAN Night:
Year round access to self-contained vehicles

Access to non-self-contained vehicles during the opening dates of the sanitary facilities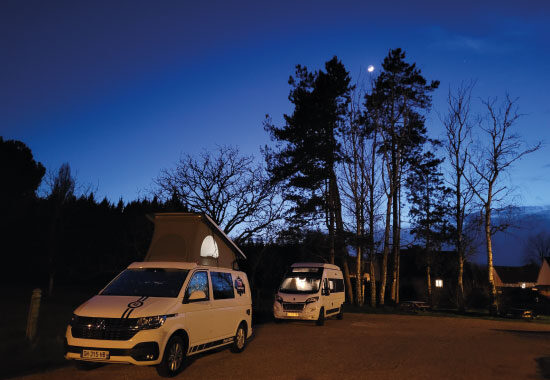 With its numerous features, VAN Night is a true travel partner for European van tourists:
Geolocation and interactive map: more than 90 stopover areas and campsites in France located near tourist sites are listed on VAN Night: number of pitches available updated in real time, photos, GPS coordinates, information about the region… and much more! 
Guaranteed essential services: for each destination, van tourists are provided with a detailed list of the services offered and the opening date of the sanitary facilities. 
The possibility to book: users of the application can book their pitch for one or more nights, for the same day or for a later date.
💚 Discounts and advantages: via the application, van tourists and customers of the network can check the discounts available at local economic actors, tourist sites and local producers. This invites them to consume locally. These Good Deals generate direct and indirect economic benefits for the entire destination.
Customer reviews: it is possible to read comments written by other travellers for each destination.
Recharging via the application: the order and the recharge of the PASS'ÉTAPES card – access card to the network – can be done directly from the VAN Night application. This personal card is valid for life and allows the customers to stay as many times as they want on the stopover areas and campsites listed on VAN Night. Read more about the access to the stopover areas and campsites
A personal account: van tourists have direct access to their customer account via VAN Night. They can consult their personal data, their balance, their past and future stays, etc.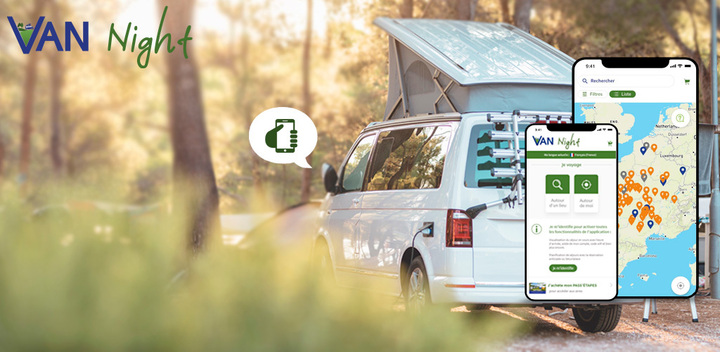 Would you like more information? 
Our team is at your disposal! 
commercial@campingcarpark.com – +33 2 52 80 20 03