/

Itinerant tourism: what to remember from 2022?

Itinerant tourism: what to remember from 2022?
Itinerant tourism is a phenomenon that has been growing throughout Europe for several years now. On foot, by bike, on horseback in a canoe or more commonly in a motorhome or a van, more and more tourists are opting for holidays that combine discovery, slow tourism and nature.
Motorhome tourism in 2022 :
The European motorhome fleet totals more than 2.7 million vehicles, with Germany leading the way with 850,000 motorhomes, followed by 610,000 vehicles registered in France. (according to the CIVD, Annual Report 2021/2022)

Did you know?*
The 3 main criteria for motorhome users when choosing their vehicle are: 1 the comfort, 2 the price-quality ratio, and 3 the manoeuverability.
 (*according to a recent CAMPING-CAR PARK survey)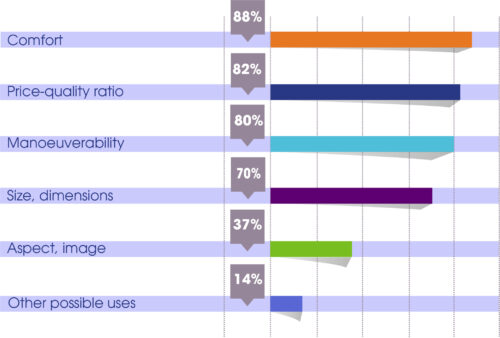 Stays registered in 2022 :
Nearly 1 million overnight stays were recorded on the network's motorhome stopovers in 2022. That is +40% compared to 2021!
The essential digital tools for motorhome trips:
79% of the network's customers use the CAMPING-CAR PARK application in their search for motorhome stopovers and 34% use the website. 69% also use the Park4Night application. 

(*according to a recent CAMPING-CAR PARK survey)

Did you know?
In 2022, the CAMPING-CAR PARK mobile application exceeded 560,000 downloads! It has become an essential tool for European travellers.
The habits of motorhome travellers*:
(*according to a recent CAMPING-CAR PARK survey)
We have once again surveyed the network's customers (in December 2022) to find out about their travel habits. Here are the results of our latest survey:
🚐 The majority of motorhome users spend 1 to 4 months per year in a campervan 
🗓️ The most popular months for traveling according to them are (in order): September, May, June 
⭐ The most 3 most important criteria in choosing a place to stay overnight: 1 the size of the pitch, 2 the geographical location of the motorhome stopover, and 3 the reliability of the facilities
📍 What they look for when choosing a destination: visiting towns and villages, hiking and walking nearby, cycling and mountain biking
Trends in the itinerant tourism market for 2023:
👉 At CAMPING-CAR PARK, we are convinced that the future of itinerant tourism will be full of surprises! After the increase in sales and registrations of motorhomes, it is now time for the converted vans to become popular. European tourists want to experience a change of scenery, explore towns and villages in complete freedom, and travel close to nature. 
👉 More and more European communities are setting up solutions to welcome the travellers in good conditions, as they represent a real economic and tourist challenge. Motorhome stopovers, service areas, municipal campsites… there is something for everyone. 
👉 New European platforms and companies have been emerging on the market in the last few years: specialized in the purchase, rental or even exchange of leisure vehicles. This trend could well continue in 2023 with, who knows, the appearance of new concepts! 
👉 Motorhome users plan to stay in many European countries in 2023, including France, Spain and Portugal.
(*according to a recent CAMPING-CAR PARK survey)

The 2022 summary of the CAMPING-CAR PARK network in a few words:
A network of

over 400 destinations

in several European countries 🌍

The opening of new motorhome stopovers abroad: Herbeumont in Belgium and La Seu d'Urgell in Spain! 

A

strong comeback of foreign customers, who represent 22% of the network's customers in 2022

(compared to 12% in 2021) 

The

threshold of 100 employees was crossed

, including 10 employees exclusively in charge of international development 

Over

€7 million

transferred to partner communities

Over

560,000 downloads

of the CAMPING-CAR PARK application 📲

A roadmap printed in 5 languages, in

250,000 copies 🗺️

A new product to complete our range of parking facilities:

the digital availability panel,

which shows the number of pitches available in real time before you arrive on site. 

And even more beautiful destinations and partnerships are expected for 2023 🚀
The entire team wishes you a wonderful year 2023 ✨
Our sales team is at your disposal for any questions!
commercial@campingcarpark.com – +33 2 52 80 20 03